9th Grade Presents to the Chinese Reconciliation Board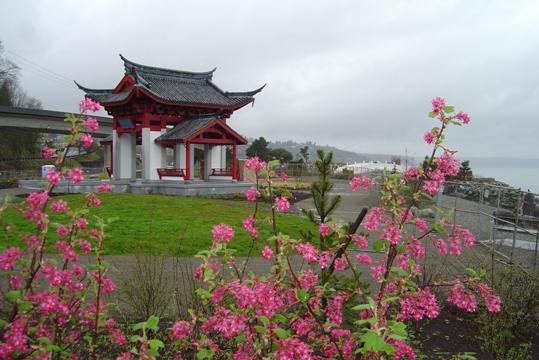 On May 12, members of the 9th grade humanities classes presented their research to the Chinese Reconciliation Board of Tacoma on a two-month long project on the US Chinese Exclusion Act and how it translates into today.
This project included many steps and assignments, starting with students researching the basic history of the expulsion in the late 1800's. They then met with the Chinese Reconciliation Board of Tacoma, which was created to honor and reconcile Tacoma's forceful Chinese expulsion history. Students talked with the board members to understand the purpose of the board and what they value most about it.
With this in mind, the 9th grade visited the Chinese Reconciliation Park on the Ruston Way waterfront and searched for these values in each aspect of the park. Most students did not find these identified values of the park represented in a clear, direct way that all visitors could quickly understand. After numerous write-ups and presentations, each group ended with final ideas to enhance the values of the park and make it as beneficial to the public as possible. Out of the whole class, the top five presentation groups were selected to present in front of the board.
At the board meeting at the University of Puget Sound, students pitched their ideas in front of numerous influential board members. The board jumped on the opportunity to hear so many possible creative additions to the park, and they took each pitch into careful consideration.  In response to the incredible work done and skills learned, King 5 News followed the story and also attended the presentation on Thursday.
"Presenting to the board was an amazing experience because we got to use our knowledge and apply it to a legitimate real life situation," 9th grader Faye Prekeges said of the experience.
Ideally, the project will extend into a possible summer internship where students utilize the real life presentation and idea development skills they learned from this project.