ASB Election Results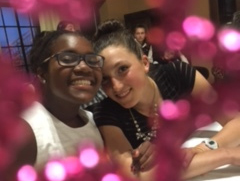 Many of our wonderful students took to the podium today to pledge their devotion to our community and run for ASB office. With so many terrific candidates, we are bound to have an amazing school year.
The Secretary/Treasurer nominations proved the red ties to be dedicated, responsible, and of course, great dancers. Congratulations to one of Inkwell's own, sophomore Minsu Kim, our 2016-2017 ASB Secretary Treasurer.
With only one candidate in the running for ASB Vice President, the ballots made for an easy count. Congratulations to junior Courtney Cureton, our 2016-2017 ASB Vice President.
And now, the moment we've all been waiting for: Your incoming ASB Executive President… Virginia Miller.
Congratulations to all of the brave, inspiring and hard-working nominees, all of whom delivered amazing speeches. Annie Wright is certainly full of exceptional young women.