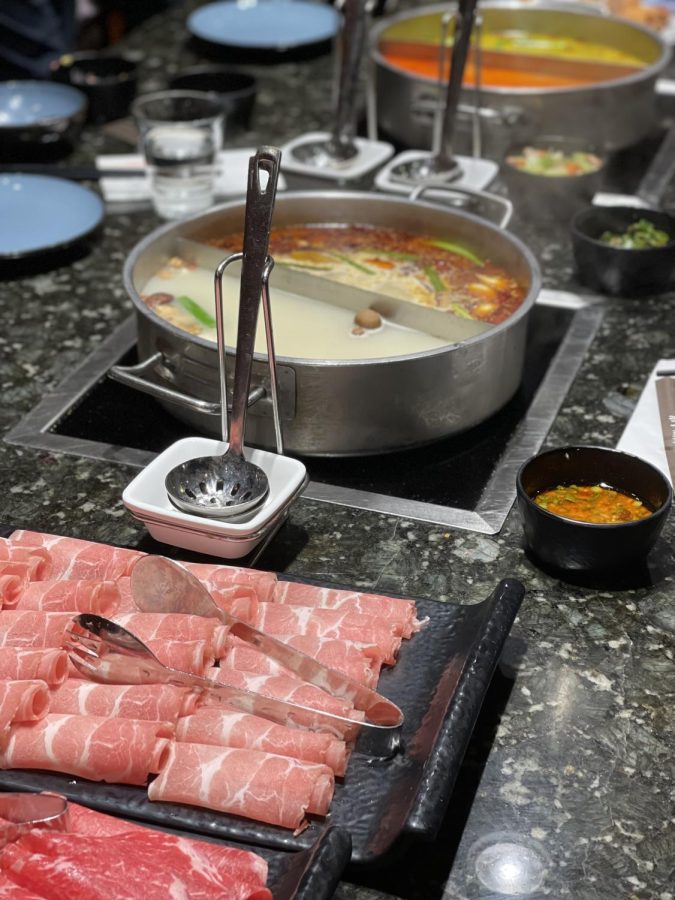 photo courtesy of Amber Fang
Hot Pot Tips with Amber Fang
June 1, 2022
The cuisine of hot pot is derived from Chinese origins and is commonly eaten in East Asia. According to Omnivore's Cookbook, hot pot is a dish best served warm. It is made with a broth consisting of water, salt and spice. The broth can be complemented with any form of meat, including seafood mixed with vegetables and noodles. The central heated pot, for which the dish is named, maintains its temperature throughout the entirety of the meal because of heating elements stationed underneath it. The pot is surrounded by the raw ingredients and sauces.
Inkwell interviewed hot pot enthusiast Amber Fang. She gave her opinions and tips on the cuisine, as well as some recommendations for where to find hot pot restaurants.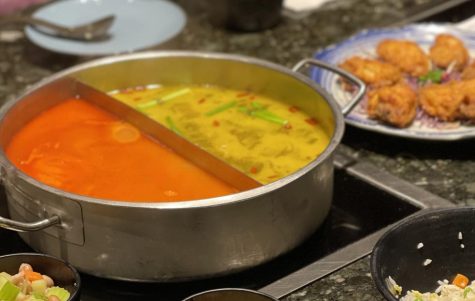 "The hot pot is the entire focus of the meal," explained Amber. "It is positioned in a way that you cook as you eat. The soup is the main course, with the supporting factors of raw meat and vegetables to accompany it." Amber also discussed some popular, if non-traditional, side dishes. "Some other great pairings include sides of fried rice, ramen noodles or udon noodles which are cooked in the broth for a more intense flavor." The sides don't end with just food, though: "A popular beverage to complement the meal further is a carbonated drink. A nice way to cleanse the palate is fruit or ice cream, which, depending on where you decide to eat, can also be included in the meal." 
Hot pot is a dish that gets its flavor from different sauces and the ingredients added. "This is why most authentic Taiwanese restaurants provide an all-you-can-eat dessert bar, to cleanse the palate and cool you," Amber explains. The all-you-can-eat dessert bars often contain desserts but are also a station for self-serve sauces, fruits and other sides.
A different form of protein appreciated by many is meat, such as imitation crab meat, which soaks up the soup to make a very tasty bite. Meat is sliced thinly so it only needs to be cooked for seconds and still gain this flavor. "I enjoy adding a lot of protein such as pork, beef and shrimp," comments Amber. "Hot pot is a year-round meal but is most appreciated in the winter simply because of the long period sitting in front of the boiling pot throughout the meal."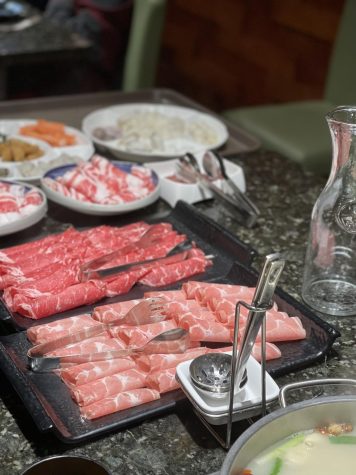 Amber explains how hot pot is also a comforting and communal experience. "Hot pot is an exciting burst of flavor, and sitting down is exciting itself, just meditating on the idea of what food and how much food you will consume. One really beautiful thing about hot pot is that you can eat until you are actually satisfied and no matter how much you eat, there is always room for dessert.
If you would like to try a new variety of flavors, Amber recommends Happy Lamb Hot Pot in Seattle, or, if you are stationed in Tacoma, hot pot restaurants in K-Town, Lakewood—"as long as you are not interested in something authentic and more or less would simply like to try the meal," noted Amber. "If you ever visit Asia, then Taiwanese Mala is a wonderful hot pot experience with many different food options such as vegan or sweet options," she added. This place is a childhood favorite of hers,Amber strongly recommends it. To stay more local, she also mentions Heidi Lou. "Heidi Lou is another choice in Bellevue," Amber offers. "It's a bit expensive, but sells on their customer service." 
This piece was originally published in Inkwell's Portland Issue.