Portland's Pastries: Where to get the Best Donuts in Town
June 1, 2022
On Journalism's trip to Portland, we visited 3 distinct donut establishments to taste test their donuts and let you know where to get the best bang for your buck. We visited and reviewed Voodoo Doughnuts, Sesame Donuts and Blue Star Donuts. We rated each bakery out of 5 stars, so read more to find out which store was the most popular!
Voodoo Doughnuts
This has a certain vibe to it, a post-obscurity-yet-still-edgy style complete with a pale pink storefront that screams Portland. But, what Voodoo doesn't have is the donuts to match. The titles and appearances encourage high expectations, but the pastry itself falls a bit flat, a lackluster attempt that reeks of an establishment resting on its brand. 
I ordered the Raspberry Romeo donut, and while the filling itself was standard (nothing surprising, nor necessarily disappointing), the dough felt below average, not to mention the jam distribution left a lot to be desired.
— Sebastian Bush ( 2/5 stars )
I ordered the chocolate covered old-fashioned donut. It was crispy, however, it came at the cost of a dry center. It was at least a clean eat, more compact and less crumbly than other old-fashioneds I've had in my life. However, the donut was deceptively insubstantial. A combination of small alterations (a larger center hole, a shorter height) resulted in a noticeably less filling donut. Furthermore, the amount of chocolate "covering" was meager at best. While the picture showed a donut drenched in chocolate, the reality was a drizzle. This was quite a shame: in my opinion, the chocolate covering was the best part of the donut. Sweet and light, the chocolate covering complemented perfectly the classic glaze on the donut. 
I also got to try their namesake Voodoo Doll Donut. My first impression was that it was a surprising mix of flavors: chocolate frosting, berry jam filling, vanilla frosting and a salty pretzel through the doll's heart. The chocolate frosting was, in my opinion, too heavy. Additionally, it was runny on the inside, which offset the textures of the donut as a whole. The highlight of the Voodoo Doll Donut was the berry jam filling. It was flavorful and thick, and I appreciated the crunch of the seeds that remained dispersed throughout.
Voodoo's donuts are also, in my opinion, extremely overpriced. While I must admire their work building their brand to a point where they are able to charge this much and stay in business, from a consumer standpoint, I felt like my money would've been better spent elsewhere.
— Sofia Guerra ( 2/5 stars )
I got the Guava Colada donut at Voodoo Doughnut. Their donuts were fairly dense and less airy than those of other places that I have been to. When I ordered the donut, I expected it to be more fruity and have a stronger coconut taste, but instead, it was quite sugary. The guava jelly on the inside was like a loose, gelatinous corn syrup with very little guava flavor. The coconut frosting wasn't much better. Its flavor was masked by the copious amount of sugar added to the frosting mixture.
However, the decoration of the donut was fun. The donut embodied the tropical theme as best as it could. The decorations were made to look like the beach: the coconut flake topping was sprinkled on the donut to look like sand with a fun colorful toothpick umbrella on top. For all of the popularity of this donut spot, I was pretty disappointed, and the flavors and textures of the donuts did not live up to the expectations I had of the location.
— Sophie Nguyen ( 2/5 stars )
For an Oregonian, having your first Voodoo Doughnut at the ripe age of 16 is highly abnormal—as that person, my expectations were very high. I chose to order a Bacon Maple Bar as regular maple bars are my all-time favorite type of donut. I was met with a very dry pastry topped with far too much overly-sugary icing. Admittedly, I would usually turn the other cheek, but with my high expectations and for the price ($3.65), I was disappointed. $3.65 doesn't sound like much, but my hometown's local donut shop sells far better maple bars for 50 cents. If you're ever in Oregon, stop by Up With Donuts in Pendleton in place of Portland's Voodoo Doughnut—you'll be saving yourself some money and some disappointment. 
— Erin Picken ( 3/5 stars )
Sesame Donuts
For a small breakfast and bake shop, Sesame Donuts impressed. Following the disappointment of Voodoo, Sesame posed a classic, balanced and tasty bite. Apart from the well-made donuts, Sesame gave off a much more subdued and humble vibe than Voodoo that felt refreshing. While Voodoo seemed overwhelming at moments, with its highly commercial brand, Sesame did not attempt the grandiose. A diner-style with a simple color palette and minimal decor allowed the donuts to do the talking. And although the purpose of this article is a focus on donuts, Sesame's breakfast sandwiches were stellar. 
Overall, well-fried, classic donuts with balanced flavors were nice. What Voodoo failed to attain was a mastering of the basics, and Sesame showed their prowess in this area. Not only that, but their namesake pastry, the Sesame donut, was truly astounding in its simplicity yet deliciousness. 
— Sebastian Bush ( 4/5 stars )
These donuts were, in my opinion, the best of the trip. Their apple fritter, a donut I find is often done incorrectly, was baked and fried to perfection. The dough was chewy without being tough, and the apple flavor was vibrant throughout. The glaze added a perfect amount of sweetness without being overpowering, and the cinnamon was well incorporated. 
I also got to try their frosted Rose City Donut. The Rose City Donut proved that Sesame Donuts has mastered the fundamentals. A simple donut, The Rose City Donut was a simple raised and fried donut with vanilla frosting and sprinkles. The texture was bready but soft, and the donut itself was subtly sweet. The frosting had a distinct vanilla flavor. Furthermore, while soft on the inside, the frosting had a thin, hardened shell on top that made for a slight crunch at every bite.
My one critique of Sesame Donuts is actually their namesake, the Sesame Donut itself. To me, the flavor of the sesame seeds was overpowering and incongruous with the sweetness of the donut and the glaze. In my opinion, it was a case of experimentation done wrong.
— Sofia Guerra ( 5/5 stars )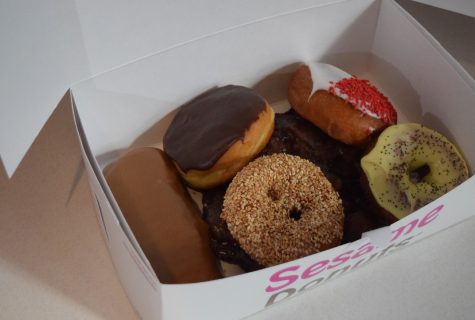 Sesame Donuts was the best of the three shops we visited on the trip. The atmosphere seemed very welcoming. There were multiple options to choose from and we decided to get many different types of donuts so we could cut them up and share them. None of them disappointed me. They all had a unique flavor and texture compared to all of the other donuts I have previously had. Even the apple fritters, a donut that almost every donut shop has, was amazing and different. I usually find Apple Fritters to be too sugary, dense, soggy and lacking in apples. This one was crunchy on the outside but still light and soft on the inside, with a perfect amount of cinnamon in the filling. Oftentimes, apple fritters will have a soggy texture because of the glaze on top, but this donut was perfectly soft and crispy. The glaze didn't soak through the donut, keeping it the perfect sweetness. Unlike the other apple fritters I have had, this one was also filled with small chunks of apple mixed into the batter, making the donut even more flavorful. If I had to recommend one spot in Portland to go to for donuts, it would be Sesame Doughnuts.
— Sophie Nguyen ( 4/5 stars )
On the third day of our trip, we stopped by Sesame Donut for breakfast. Being least well-known of the three places we visited, I wasn't expecting much. Despite my un-optimistic expectations, Sesame Donut wowed. I got another maple bar in an attempt to be as consistent as possible, and it was far fluffier and well balanced than either of the other donuts I ordered on the trip. We split them up evenly so everybody could get a bite of each one and all of the donuts were amazing—I especially enjoyed the Rose City Donut and their classic Apple Fritter. While they were delicious, I would not recommend Sesame Donut to somebody who is looking for adventurous flavors or, frankly, anything particularly special. Their donuts and bagels were indeed delicious, but nothing especially out of the ordinary. This was more a taste of home than a foodie's paradise – nevertheless, it was my top choice out of the three!
— Erin Picken ( 5/5 stars )
Blue Star Donuts
Although Blue Star Donuts felt much different than Sesame, I found their donuts the best of the trip. An important note to make is that while both Voodoo and Sesame served fried pastries, Blue Star specialized in baked donuts. And while some members of the group found this change disappointing, my background in eating majority gluten-free foods had prepared me for a different consistency. Unlike your average donut, cake donuts allow the dough to be flavored, with less emphasis on frosting. And, Blue Star nailed this. From their Passion Fruit pastry that was both sour and sweet to their Olive Oil Donut that both seemed revolutionary and ended up being surprisingly scrumptious, Blue Star did not shy away from bold flavors that delighted the taste buds. 
Sure, you might find these donuts dense, or drier than a normal donut, but that's kind of the point. Don't go in expecting something light and airy, because cake donuts are closer to cake than donut. And while the experience is different, in my opinion, Blue Star found a way to bring new ideas to a pastry that's largely found itself without much room to grow. For me, Blue Star is a must visit for any donut connoisseur and was by far my favorite of our trip.
— Sebastian Bush ( 5/5 stars )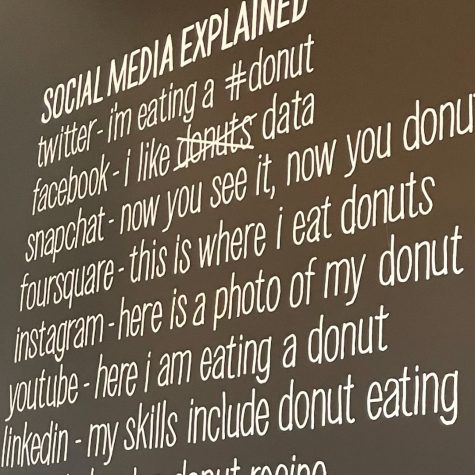 Blue Star stood out among the three for its interesting and varying flavors. Unfortunately, I found that these unique flavors only partially distracted from the poor texture of their donuts. They were dense and overly crumbly with a floury aftertaste. Furthermore, the texture was inconsistent within the donuts, as if the batter hadn't been well mixed. One positive of the Blue Star donuts was their frosting. Their glazes and toppings were true to the labeled flavor of each donut, and the frosting was light enough that the flavors weren't overpowering. I particularly enjoyed their Passion Fruit and Mexican Chocolate donuts as a fan of sour and spice, respectively. 
I, admittedly, was also not very fond of the shop itself. While it was simplistic and clean, there was a sticker decal on the wall titled "Social Media Explained" with a number of social media-related puns. The humor, to me, was outdated. Particularly in comparison to the hip and rebellious vibe of Voodoo Donuts, this turned me away as a customer. 
— Sofia Guerra ( 4/5 stars )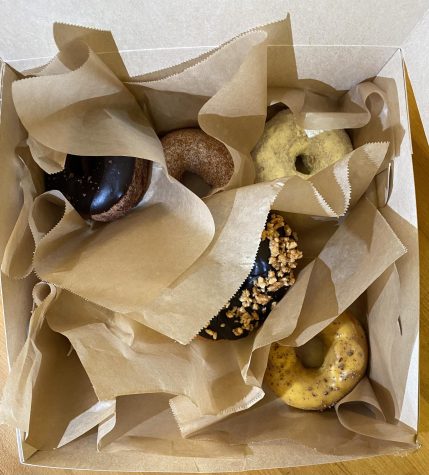 Blue Star Donuts was the second favorite place we got donuts at. Their donuts were very different from the other two places. The donuts were cakey and more crumbly than the other two locations, but still fairly moist. Another difference was that for many of these donuts, the dough had different flavors too, rather than just the toppings. I did find that some of the doughnuts were less flavorful due to the fact that they relied on the batter itself for the flavor rather than the toppings, however. I generally prefer yeast-raised and fried donuts over cake ones but I still found these donuts different and fun.
My favorite donut of theirs was the Olive Oil donut. The topping of powdered sugar added to the texture of the donut and the olive oil made the cake moister than the other donuts. I was happy with the donuts we got at this location, but if I were to recommend any donut shop, it would still be Sesame Donuts.
— Sophie Nguyen ( 3/5 stars )
The last donut place we visited was Blue Star Donuts, which stood out for its unique flavor options and more artisanal business model than the other two places. Among the flavors I tried were their Olive Oil donut, Mexican Chocolate and Sesame. The Mexican Chocolate was by far my favorite of the three, being the least dense. 
— Erin Picken ( 2/5 stars )
This piece was originally published in Inkwell's Portland Issue.