photo courtesy of Sofia Guerra
Eating Local at Hawthorne Asylum
June 1, 2022
Portland's food scene is set apart from that of other cities by its bustling food cart culture. Food carts, non-mobile trailers that rent or lease a space for extended periods of time, have been around Portland since the 1980s. The industry, unlike many others, saw a boom during the Great Recession. When property prices rose, working out of a trailer became favorable and more and more food carts began to pop up around the city. Today, all types of cuisines and niches are represented in the hundreds of food trucks the city hosts. From award-winning establishments to mom-and-pop comfort food, the Portland food cart scene has it all.
Nowadays, there are many major food cart "pods" throughout Portland. Inkwell visited one of these such pods, Hawthorne Asylum. Opened in 2019, the pod, home to 23 food carts, is located on the site of the original Hawthorne Asylum, a hospital for the mentally ill. To honor the origins of the land, the Hawthorne Asylum pod features a dropbox for donations to help children in need of psychiatric or mental health care.
Inkwell visited and ate at a variety of carts at Hawthorne Asylum. From poke bowls to fried bananas to overstuffed fish sandwiches, the pod had a lot to offer. Inkwell spoke to a few owners of the food carts there about their businesses and experiences working in the food cart industry.
Korean Twist
Christian Lee owns the Korean Twist food cart, located immediately to the left as one walks through Hawthorne Asylum's gates. Its menu boasts plates that fuse different types of Korean dishes with Mexican-style presentations: spicy pork burritos and grilled beef tacos, to name a few. The cart's unique take on Korean food is a major part of its allure: the menu's combinations are both innovative and appetizing.
Lee discussed the opening of the food card. "How did it start? I met the landlord back in 2018 and he was telling me about this spot." Hawthorne Asylum, even before its official opening, was projected and promoted to be the next hotspot for food carts.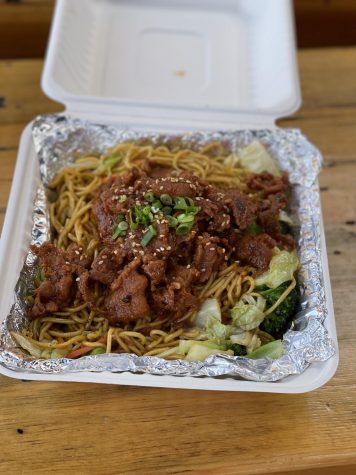 It quickly came to be considered prime space in the food cart world. "Since then," Lee explained,  "I saved up cash for about a year and bought myself a trailer, equipped it, and [Korean Twist] has been going strong since 2019."
He also described the difficulties he faced due to the hit of the pandemic only months after the cart opened. "[The pandemic] made running the cart a lot harder obviously, but luckily, being where we are and being a food cart, we were able to survive because our margins are lower than restaurants." Because of lower maintenance fees and the more social-distancing friendly grab-and-go nature of food carts, Lee said, Korean Twist did not struggle as much as some of its restaurant counterparts. "So, for that reason I'm grateful." 
"But, there was definitely an impact," he added. "I had to close, I remember, in 2020 for about a month. Since then, it's been harder finding employees and this and that, costs are going up too, but all in all, we're doing ok."
Texicano
Texicano, Hawthorne Asylum's resident Tex-Mex food cart, is run by Timothy Teal. Teal, who worked in the industry long before the pandemic hit, explained why he moved out to Portland in 2019. "I came from Chicago, so I moved here during the pandemic. The Chicago food scene was completely dead, there were no restaurants open, no food, nothing like that. At least here, with these food carts, there was a form of cuisine and restaurant culture that was still going and was still viable. People were coming out, slowly—very slowly—at first, and then it started to get better, and now it's picked up to where it's almost back to normal."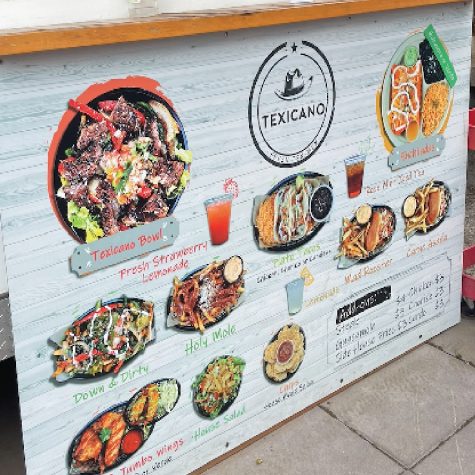 The food cart, coincidentally, was celebrating its one-year anniversary the day Inkwell interviewed Teal. "We actually started a year ago today," Teal said. "Originally, we also owned another cart at the Cartopia location and when the opportunity came up for us to get a spot here, we wanted to branch out. Something else we do is Egyptian food at our first cart. We've always wanted to do Mexican or an American-Mexican food truck, and this was the opportunity to do it."
When asked why Texicano serves the cuisine it does, Teal referred to the cart's head chef. "Our cook, Willy, he's our head chef—he's been in the industry for about 30 years, and his primary focus is Mexican cuisine. A lot of the recipes we use are his own, from his home, his grandmother, handed down. Legacy recipes. So, we incorporated that into our menu and went with that."
Texicano also has plans for the future. "We're planning that this is just the first cart of this brand, and we are going to eventually, in probably like two to three years, open up another Texicano in another location, and possibly just franchise from there."
La Naranja
La Naranja, notable for its bright orange coloring, is tucked away just in front of the back dining area of the pod. It is a family-run cart serving traditional Mexican food. Jorge Marquez Jr. explained how La Naranja was started.
"We started in July last year. July, 2021," he began. He waved to his mother and father, cooking in the back of the trailer. "These are my parents, and they've always wanted to work for themselves. So, they've been working in restaurants or part-timing at different places."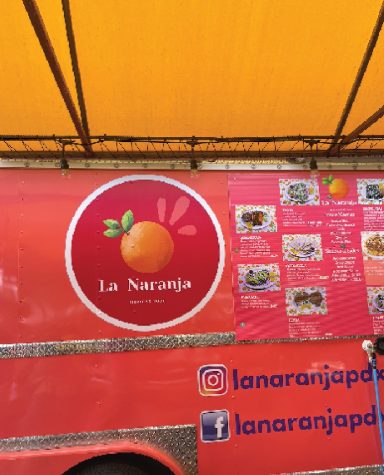 "They actually used to work for Montage, which is right here next door. They closed the physical restaurant, and that was what kind of got my parents to figure out what they wanted to do because they saw how easily it could all just go away. So, they just wanted to start their own place." He cited the effects the pandemic had on the restaurant industry as the unexpected silver lining that prompted his parents to pursue their long-held dream.
When asked about why La Naranja serves the cuisine it does, Marquez explained, "We're from Mexico, so it's only natural that we serve Mexican food. It's just what they know. It's all family recipes, just from mainly my mom and my dad as well."
Lastly, he commented on the differences between working in a restaurant and running their own food cart. "The people are very different," Marquez said. "Here, the people are a lot more friendly—the customers, I mean. As opposed to a sit-down restaurant where my parents would be in the kitchen in the back, they're now dealing with the customers face to face and it's definitely a different type of interaction." He concluded that he and his family very much enjoy running La Naranja. "We're thankful to have opened."
This piece was originally published in Inkwell's Portland Issue.