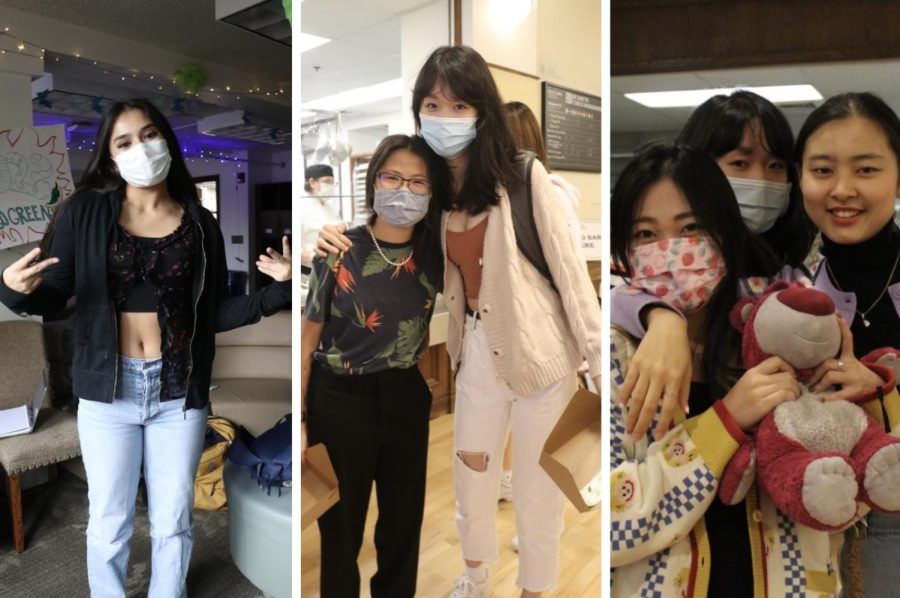 photo courtesy of Nadia Hoffmann
How Covid-19 Impacted the Fashion Industry
February 3, 2022
COVID-19 has been around for two years, and the fashion industry has been impacted a lot. Trends, production and ideas have changed drastically throughout the two years. Inkwell asked Upper School to fill out a survey about their opinions on COVID-19 and how it changed their style, trends and their overall opinions on fashion. 
In the survey, we asked upper school students if they thought COVID-19 changed their style. Shockingly, 76% of respondents said COVID-19 did change their fashion, saying  they mostly dressed  in a more mature or experimental way. Grunge, Y2K, streetwear, baggy jeans, cargo pants, athleisure, and the tiny- shirts-and-big-pants combo were the trends most often mentioned by respondents. USG students said they mostly got their fashion inspiration from Pinterest, Tik Tok, Instagram and Emma Chamberlain, a YouTuber. USG students named low-rise pants, early 2000's fashion, Bella Swan's fashion in Twilight, academia and pink feminine styles as the most popular trends throughout COVID-19.
We also interviewed Isabelle Greer, a fashion major, and Jasmyn Johnstone (USG '24). Greer studied Apparel Design & Development at Seattle Central College and now works at Jarbo's Seattle location. Johnstone interned at BirdieBee and Seven7 Shoes, fashion companies. One of the first questions we asked Greer and Johnstone was how they think COVID-19 has affected the fashion industry. Johnstone responded, "I think with the athleisure  side of it, athletics have become so much more prominent since COVID-19 happened." Johnstone also mentioned, "There's more natural patterns. That's how COVID affected it. You're going to see more natural patterns because people are coming out more. They're less locked in their and they're connecting more with nature." She also thought there will be more bright colours like bright yellows, rich blues, purples and psychedelic colours.
Greer said, "With my job, I know that my boss really struggled because we get… clothing manufactured in Bulgaria, China and Italy… So a lot of the warehouses were shut down, and, people couldn't come into the stores anymore to shop, so that's when we started our online store, and it's doing really really well now. But I know that was a really huge transition for them because, you know? They've never done anything online before." Greer also agreed with Johnstone, saying that athleisure wear was now more popular. Greer said, "And like I said, it just became a lot more leisurewear. Like hoodies and sweat suits and all that kind of stuff."
Trend forecasting is a career that focuses on forecasting future trends like colours, fabrics, textures, accessories, footwear, street style and runway wear. When Johnstone was asked if COVID-19 made it harder to forecast trends and colours, she replied, "I mean I would say kind of the same. I really only worked in this industry for the time of COVID…So I do think there has been change, but I think it's still very predictable."
"
76% of [AWS students] said covid-19 did change their fashion."
Lastly, people's style has changed a lot during COVID-19, and when asked personally Greer said,"I think it has, and I think the company I'm working for [has] as well. They've become a lot more relaxed, you know? We don't want to wear super tight clothes anymore and be uncomfortable. So I think a lot of the styles are becoming a lot less sophisticated, if that makes sense." While Johnstone says, "Personally, I was a lot more into street style—like just rocking a lot more street-like baggy clothes or some tight, some baggy—like a lot shorter and smaller." Adding on a Parisian fashion tip, "In a sense, I learned how to build a better balance. A Parisian thing is you should wear two types of clothing—always have one baggy, one tight." Both Greer and Johnstone talk about tight and shorter clothes which were personally going out of style for them. They opted for flowier, work-appropriate and yet comfortable clothing pieces.
Overall the Upper School's experience with COVID-19 has been all over the place with mental health, fashion, school and much more, but one thing we all have in common is change within ourselves, our expression, our fashion styles and our lives.
This piece was originally published in Inkwell's Fashion Issue.