Recipe: Julia's Matzo Crunch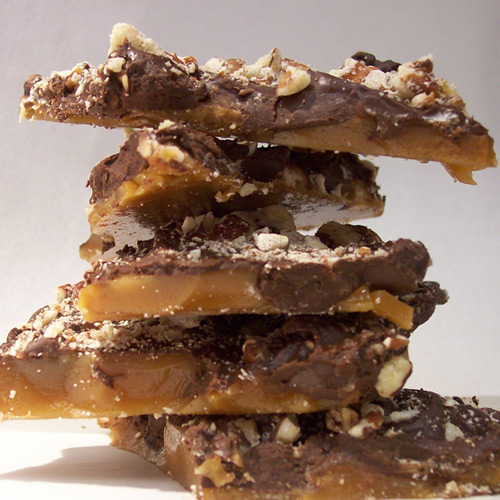 This caramel chocolate cracker is scrumptious! Perfect to wrap up and gift to friends or neighbors without a mess. Personalize it with nuts, peppermint, or extra chocolate. It is very simple and good to make as a collaboration, especially with kids too.
—— Julia
Ingredients
4 to 6 sheets of matzo
1 cup (2 sticks) unsalted or salted butter, cut into chunks
1 cup (firmly-packed) light brown sugar
optional: coarse sea salt
1 cup semisweet or bittersweet chocolate chips, or coarsely chopped bittersweet chocolate
1 cup sliced almonds, toasted and coarsely chopped
Directions
Line a 11″ x 17″ baking sheet completely with foil (making sure it goes up the sides) and preheat the oven to 350F degrees.
Line the bottom of the sheet completely with matzo, breaking extra pieces as necessary to fill in any spaces.
In a medium-sized heavy duty saucepan, combine the butter and brown sugar and cook over medium heat until the butter begins to boil. Boil for 3 minutes, stirring occasionally.
Remove from heat and pour over matzo, spreading with a heatproof utensil.
Put the baking sheet in the oven and bake for 15-20 minutes, until the syrup darkens and gets thick. (While it's baking, make sure it's not burning. If so, reduce the heat to 325F degrees.)
Remove from oven and immediately cover with chocolate chips or chunks. Let stand 5 minutes, then spread smooth with an offset spatula.
Sprinkle with coarse salt, then scatter the toasted almonds over the top and press them into the chocolate.
Let cool completely (you may need to chill it in the refrigerator), then break into pieces and store in an airtight container until ready to eat.
Recipe originally from DavidleBovitz.com