San Juan Islands: Day 2
Restaurant recommendations for Friday Harbor
Despite being a small tourist town, Friday Harbor offers a variety of cuisines for breakfast, lunch and dinner. Here are Inkwell's recommendations on the best places to eat in Friday Harbor. 
Bean Café offers freshly made baked goods in the morning and fresh coffee all through the day. Favorites include the banana muffins, oatmeal with fruits and nuts and the everything bagel (strongly recommended with cream cheese). 
Haley's Bar and Grill is a local favorite and offers a wide range of burgers and sandwiches. 
Blue Water Bar & Grill is located across from the ferry station. They offer seafood grills and an assortment of burgers and salads. 
Spring Street Deli is in the center of Friday Harbor and like most restaurants in town, is vegetarian friendly. The Veggie Sandwich is highly recommended. 
Cheesecake Cafe & Bakery  is on the dock beside the ferry station. The bakery offers a delicious cinnamon roll and other baked goods, the pumpkin danish is also a favorite of our group.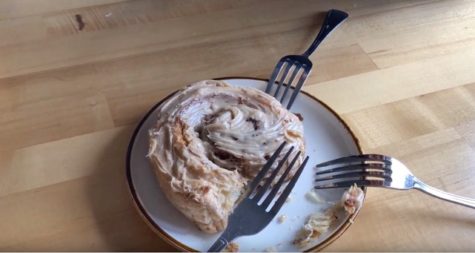 The Golden Triangle is located on the 1st street and specialize in south east asian cuisine. Thai food and Vietnamese food are highly recommended; they are also able to specialize their spice levels with personal preference.
Organizations for the whales
The Center for Whale Research and The Whale Museum are organizations that reside in Friday Harbor, San Juan Island, in order to inform people about the local whale populations and the reasons for their declining population.
The Whale Museum is a great place to see visual models and representations of whale skeletons, realistic amounts of debris found in a whale's body, and other interactive activities for visitors of any age.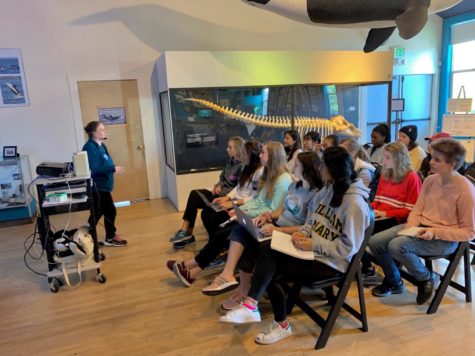 We were able to touch whale baleen and ask questions to the expert that gave us the informative lecture on Southern Resident Orcas. 
At the Center for Whale Research, we had the privilege of being informed by another professional about the endangered Southern Resident Orca population and how the general public can help. 
We were able to view footage of an Orca's hunt for a Chinook salmon from their drone that allows them to see up to 10 meters under the water. They also offered Virtual Reality headset footage of the Orcas, which the whole group enjoyed.
Whale watching
After establishing a foundation of knowledge about whales, we bundled up in thick layers and headed out of Friday Harbor and onto the Strait of Juan de Fuca to observe the magnificent creatures in real life. The company we chose, Western Prince Whale Watching, used a coast-guard approved speed boat that allowed us to cruise through the waters very quickly. We were kindly greeted by naturalist, Elah, and our driver, JB, who showed us how to put on our gear and provided us with unique information and personal experiences we weren't able to get from the museum/research center. As we navigated the waters, the salty air collided with our faces, and the wind became one with our hair. 
After observing birds glide across the Strait and clusters of kelp floating on the water, our driver JB stopped by a family of rocks where we saw sea lions dipping in and out of the water and perched on top of the rocks claiming its territory. In awe of the sea lions, the engine revved up and we continued our watch. JB stopped again saying to watch for a humpback whale named Double Drop. Lined up along the edges of our speed boat, we watched eagerly for the fin. We were able to catch his fin peeking out of the water many times, see his tail, and like out of a documentary, saw him surface to the water and breach gracefully. Then again, the engine revved up and JB took us further along the strait where a group of J and K-Pod Southern Resident killer whales swam. We were able to observe up to 10 orcas, even at a close range when they swam yards away from our minuscule water vehicle. We observed mating interactions between a pair, saw several heads come up to the surface, and heard their use of echolocation.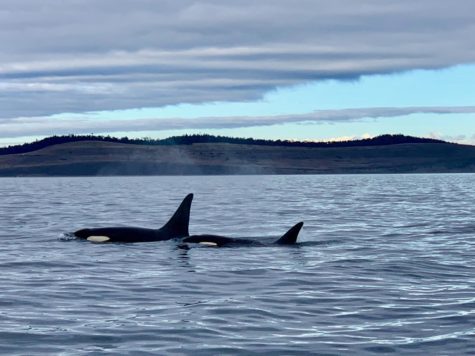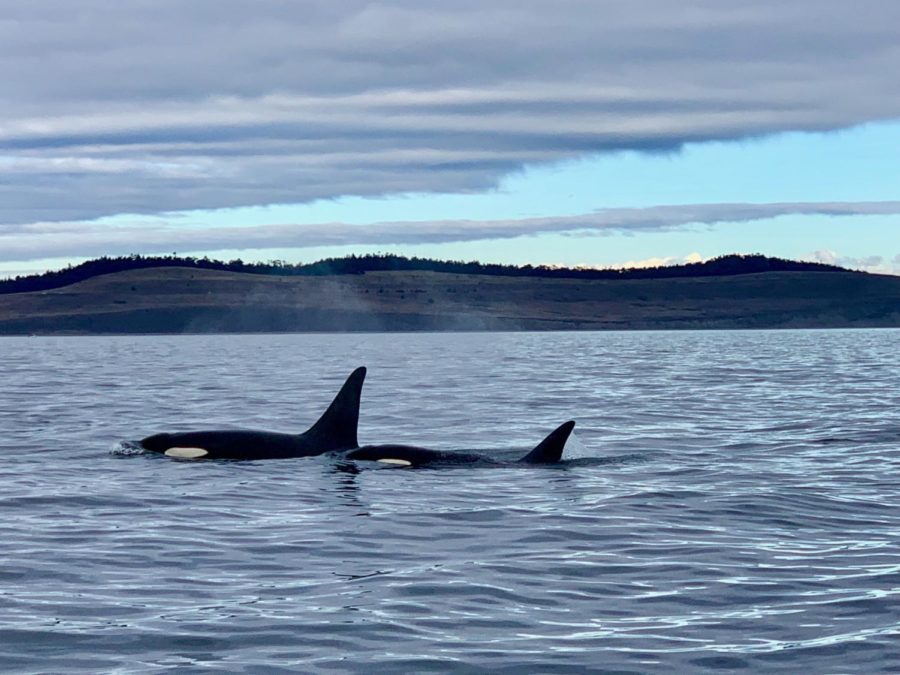 Unfortunately, seasickness was became a small issue for some while observing the orcas. However, the guides, JB and Ayla, were very knowledgeable in how to overcome it as they provided us with pressure point bracelets and ginger candy. Getting seasick during an experience like this isn't ideal, but it is recommended to eat ginger candy, sit towards the back, and focus on something stationary. Despite the circumstance, we made the most out of the experience, and the experience was still magical and movie-like.