Annie Wright partners with Tacoma Community House
As Donald Trump stands by his promise to build a wall on the U.S.-Mexico border, as millions of Syrian refugees flowing out of their country, and as Britain attempts to reclaim and harden its borders, immigration has been a defining global conversation lately. And in the U.S. especially, it seems that everyone is far from agreement about how to handle the movement of people in and out of the country. In the midst of liberal calls to "Abolish ICE" and conservative hopes to "Make America Safe Again," the conversation about immigration has now shifted away from immigrants and more toward external political feuds.
Inkwell noticed this shift and decided to investigate on a local level. Tacoma has a large immigrant population; about 80,000 people who live in Pierce County were not U.S. citizens at birth, the News Tribune reported. Inkwell wanted to shed light on the personal challenges, doubts, triumphs and aspirations of immigrants in our community that are lost in the global narrative.
Through a few emails and phone calls, we established a partnership with Tacoma Community House (TCH), a non-profit organization that has provided educational, employment, legal, and social services to immigrants in Tacoma since 1910. In 2017 alone, TCH served over 3,500 clients from 105 countries. About 700 of these clients were students, 75% of whom studied English Language Acquisition and 25% of whom studied for General Education Development, according to Amy Diehr, the Educational Services Manager at TCH.
Inkwell visited students learning English at TCH four times throughout October and November. The premise was simple: build connection through conversation. TCH students could practice their English and Inkwell staff could report on immigrants in Tacoma.
Except it was all a bit more complicated. As we walked into TCH for the first time in our Campbell plaid skirts with our reporter's notepads and pens, I felt some uneasiness. I didn't feel ready – or perhaps even qualified – to ask strangers a lot of personal questions about their home countries and why they left. I felt removed from their world.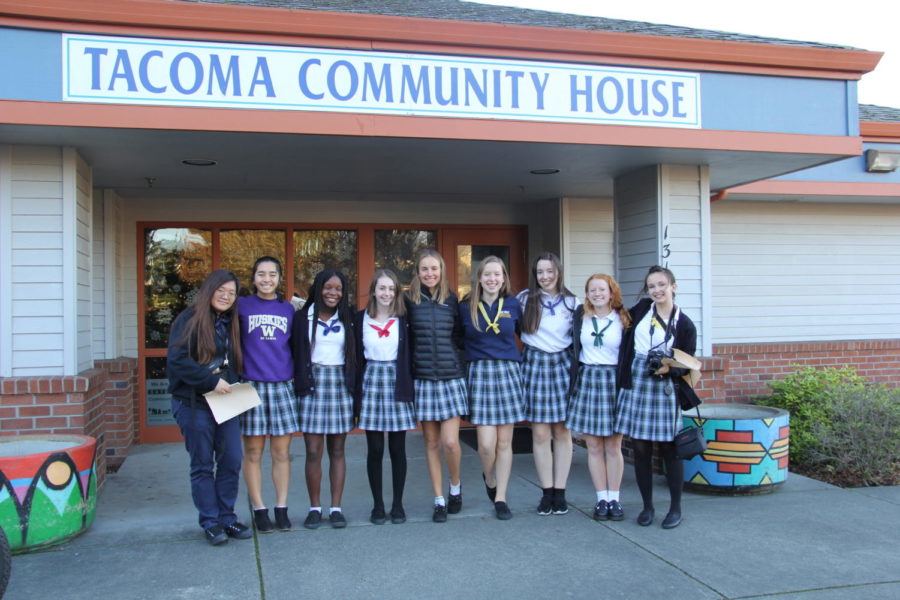 The Inkwell team interviewed English students at Tacoma Community House four separate times.
We entered their classroom, and I took a seat with Amal from South Sudan and Lee from Cambodia. While yes, there were some awkward silences, and I sweat a bit more than I would have if I were just chatting with my friends, conversation flowed more smoothly than I'd imagined. Amal and Lee eagerly shared their stories and asked about my own. I learned that Amal, who was previously a lawyer, came to the United States when he finally won the Diversity Visa after applying for ten years. "I wanted to come here to continue my life here," he said. "Not everywhere can you find this chance. America is a chance. In other countries, there is no chance."
Lee left Cambodia and has lived in Tacoma for 27 years. His friends in Cambodia call him the "free man," and he doesn't vote in US elections because he thinks anyone who runs for office in the U.S. is a good leader he can trust.
Each time we returned to TCH, our connections strengthened. While every student's story and circumstances differed, Inkwell observed some commonalities in reasons for their immigration, including freedom, employment, language, love, and aspirations. Almost always, they immigrated with the future in mind.
"There are so many reasons why people come to the United States. And for so many of them, they are not better off than they were in their home country," Diehr said. She mentioned some clients at TCH who were doctors, lawyers, and prominent judges in their home countries can only find work as janitors, nursing assistants, or in factories here. "They came to the United States to make a better life for their children," she said.
Amelia, for example, immigrated from Mexico 20 years ago to give her four sons a better future. Self employed, she sells fruits and veggies wholesale.
Dominque came from the Democratic Republic of Congo, where he worked as a senior accountant for 24 years, and is now unemployed. He has six children, four in the DRC and two live in the Tacoma area, and is studying to improve his English so he can continue his business and accounting career. Still, he appreciates the freedom in the US. "I wanted to come here to continue my life here," he said. "Not everywhere can you find this chance. America is a chance. In other countries, there is no chance."
To me, the people we met at TCH embody a type of bravery not many do. I don't know if I'd be brave enough to make sacrifices the way they did, and I don't think that people who want to separate children from their parents at the border understand the bravery it takes to leave home without any intention of returning. Even more, I don't think they understand the ways that immigrants power our nation.
"Sometimes people think that [immigrants] come here and get welfare and take our jobs," Diehr said. "But people come here and bring this incredible fabric of their lives that just enhances our community."
Diehr mentioned some of the ways TCH has benefitted Tacoma's community throughout its 109 years of operations: past clients have gone on to become doctors, business owners, and Olympians.
Tacoma's history with immigration has not always been bright; in 1885 its Chinese population was forcefully removed, and in 1942, over 7,500 Japanese were held in an internment camp in Puyallup. TCH works to celebrate and support the longstanding multicultural Tacoma community. "I believe, and I think it's true when people come here, that Tacoma is a welcoming place for people. And I like to think TCH has played a part in that," Diehr said.
On our final visit, we changed roles, and Tacoma Community House students crafted questions to ask our Inkwell team. After the students had finished asking us questions, we went to quickly debrief with Diehr. When we returned, the students had taken the information to write a quick bio about each of us, including a sketch. It was a wonderful surprise and a great culmination to a meaningful partnership.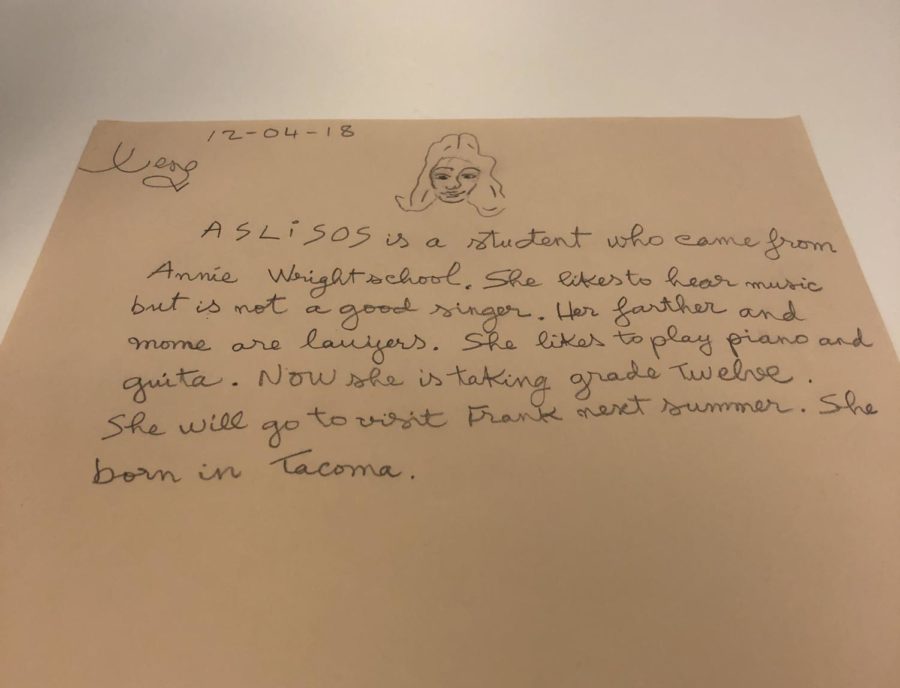 With lots of laughter, Tacoma Community House students shared our bios with us.
As political rhetoric continues to alienate those on the outside and divide us from within, it's necessary to take a step back and connect with people on a personal level. One conversation is always at the start of change.
The entire Inkwell team also contributed reporting to this article.