Day 7: Siem Reap
Arriving in Siem Reap
by YoungSeo Jo
Our last stop in our travels across Southeast Asia was Siem Reap, a city located in the northwestern region of Cambodia and known for its famous Temple Angkor Wat.
Our first impression of Siem Reap was the hot and humid air in open airport. This was the infamous heat of Southeast Asia that we were warned about.
The town was less busy than Hanoi, and the Thursday night we arrived was quiet. We found out later that this was unusual for the center of Siem Reap, where rowdy music is a constant companion.
We were excited to enter the country of our friend Chanthen and explore this whole another world.
Chanthen's story (abridged version)
by Abby Givens
Chanthen Hong joined Inkwell on our experience in Southeast Asia. She is from Siem Reap, Cambodia, and attended Jay Pritzker Academy before she came to Annie Wright Schools as a sophomore. Inkwell talked with her about her story.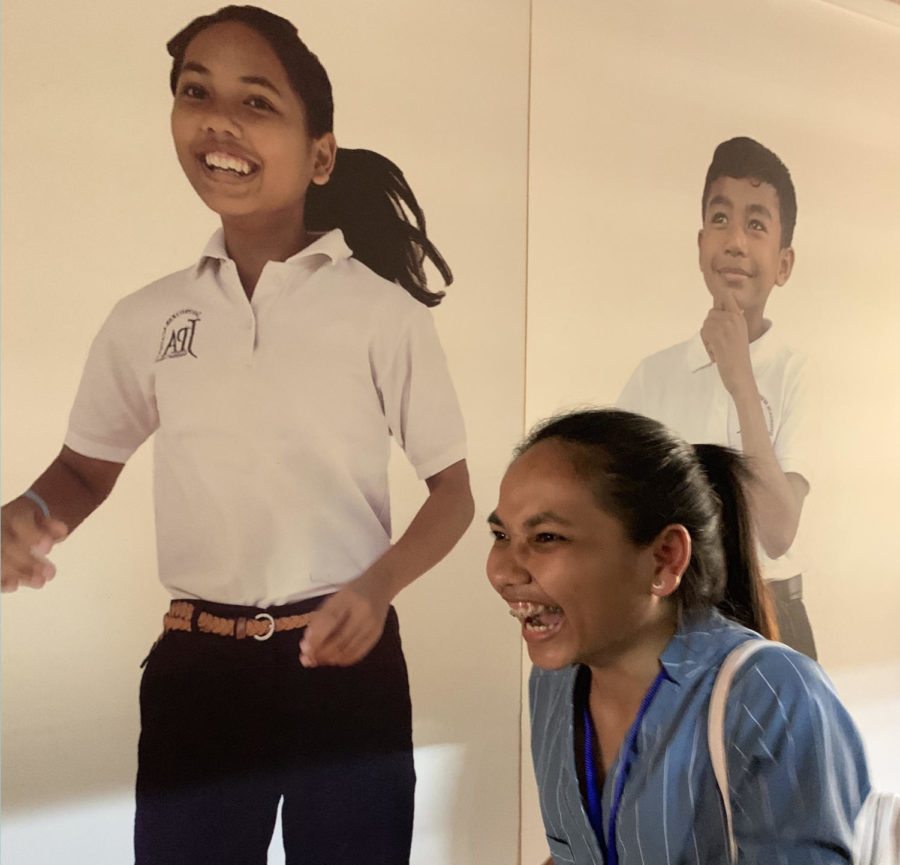 Chanthen described her early childhood as difficult because her family wasn't particularly wealthy. This meant that she had to help out with farm work by looking after the cows and buffalo, and cooking and cleaning. This amount of work at home in addition to work at school was difficult to juggle. In addition to the stresses already present in their life, Chanthen's dad got sick and to pay for his medical bill and medicines, the family had to sell some of their land.
Jay Pritzker Academy (JPA) was founded in 2005, and they went into government schools to select the highest ranked children to be part of their ESL program. Chanthen started in 2nd grade and learned the Khmer program in the morning and then in English in the afternoon. To stay on the scholarship she had to keep a high academic and behavioral standing.
Chanthen talks about JPA as a community beyond just the educational aspect. The teachers care deeply about the students and are willing to "step down as a teacher" to talk to the student on their level, to make sure everything is going ok in their life. This is part of what Chanthen thinks makes JPA students' educational experience so impactful and effective. Chanthen also talked about the community that is formed because of the amount of time the students have spent with each other. She said there was little movement into or out of the grades, and in addition they arrive at school at 7:30 am and leave at 5:00 pm. They spend a lot of time together.
The time and drive to learn that Chanthen talks about JPA students having is what makes this school and community so impactful, still guiding Chanthen in her decision making.
In high school, Chanthen was going through some difficulties at home. She was living with another family and it was difficult for her to keep up her grades. JPA approached her about going abroad to experience a new culture and to get away from some of the factors that were holding her back from being able to fully invest in her education.
Chanthen agreed that this would be best, and worked hard to make it happen. She took two math classes, dropped an English class, and took after school biology tutoring to bring up her grades and make sure she was prepared to go abroad. Chanthen was connected with Mr. Bates through a common connection to an owner of a school in Vietnam. Mr. Bates came to interview Chanthen and she came to Annie Wright in January of that year.
After Annie Wright, Chanthen plans to, through whatever profession she decides to pursue, help make a positive impact on Cambodia. She hopes that youth will realize the power they have, and how they can use it by staying involved and knowledgeable on international matters.
Climate in Siem Reap
by Jade Cheatham
When we first arrived in Cambodia the heat surprised us, something that we aren't use to in Tacoma. Although the heat is nice for a while, it has a large impact on Cambodian society.
Six months out of the year it's very dry in Cambodia, making it difficult to grow food needed for the people and also the animals. Cambodia also suffers from a drought during the hot season, making it hard to provide water to the people, the crops and the animals. While driving to JPA we passed by many bony cows grazing dry, brown fields looking for food that wasn't there.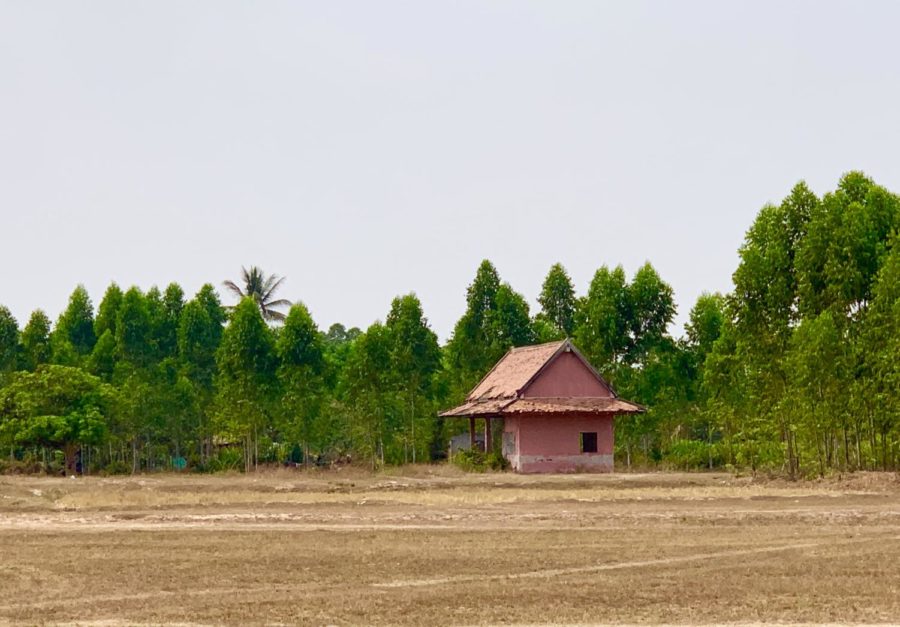 According to Chanthen it gets drier every year, making it more difficult to produce food for Cambodia's growing population.
During the wet season, it's common for floods to affect the area. Most houses are on stilts to prevent destruction from the floods.
Introduction to Jay Pritzker Academy
by Julia Henning
On Friday, we visited Jay Pritzker Academy, a local independent school in Siem Reap and the former school of Annie Wright Alumna Yuulin An (18) and current Annie Wright student Chanthen Hong (19). The school was founded in 2008 and started with a few smaller classrooms dispersed throughout Siem Reap Province. It built its own large campus where it stands today about 10 miles outside the center of the city of Siem Reap. It started small, but today there are around 460 students and 80 faculty members in Preschool through 12th grade.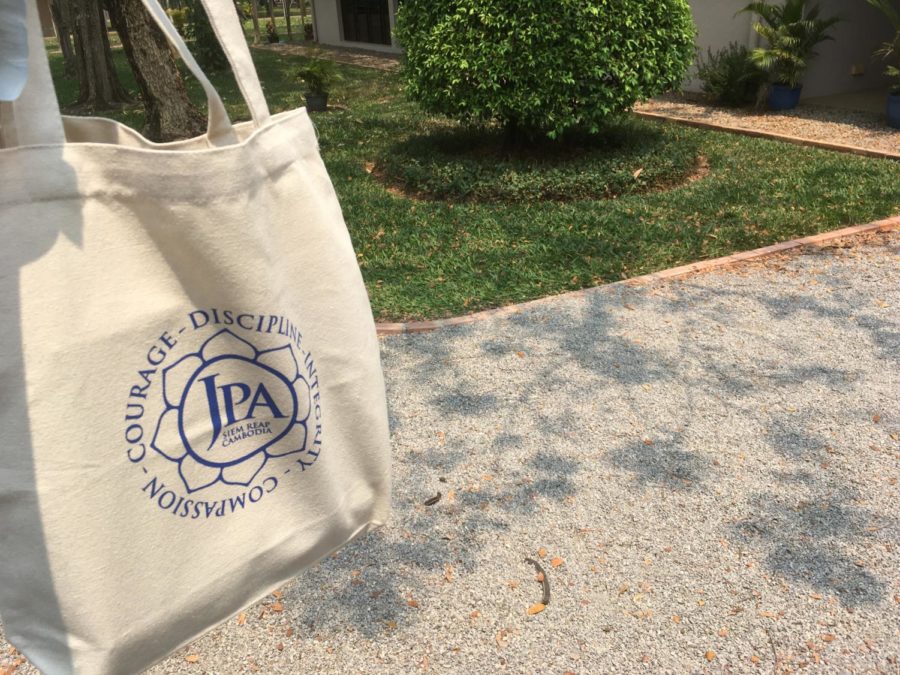 We had the opportunity during our visit to participate in two classes with students of our same grade when we first arrived. Some examples of the classes included Political Science, Physics, Reading (English), and Music. All of them were taught in English. Then, we ate lunch and met the Head of Schools, Steve McCambridge. After, we got a tour of the PreK classes and the school's dental clinic. Lastly, we received a parting gift of school mugs and calendars.
Similarities & differences to Annie Wright Schools
by Nina Doody
JPA is a K-12 school in Siem Reap, Cambodia. Similarly to Annie Wright there are students from preschool to 12th grade. Some major differences in the upper schools are that Annie Wright offers IB programming while JPA has AP, and Annie Wright has separate academic programs for girls and boys, while JPA is a fully coed.
There are many parallels between the culture of the two schools. Students are passionate and engaged with their work, and teachers are passionate about their subjects. Inside the classroom all students use laptops and have access to Google Drive, similarly to Annie Wright.
The appearance of the schools, however, is quite distinct. JPA has open hallways that are outside and separate buildings with separate classrooms. This is unfamiliar to many at Annie Wright because all the classrooms are within the same building. However, both schools sport the same white polo as their uniform shirt. The JPA uniform, unlike Annie Wright's, however, includes crocs.
JPA provide a free education to those academically inclined. Almost all students at Annie Wright pay tuition to attend.
Classes at JPA
by Samantha Salamone
When we visited Jay Pritzker Academy, Chanthen's former school, we were lucky enough to be able to participate in three of their classes.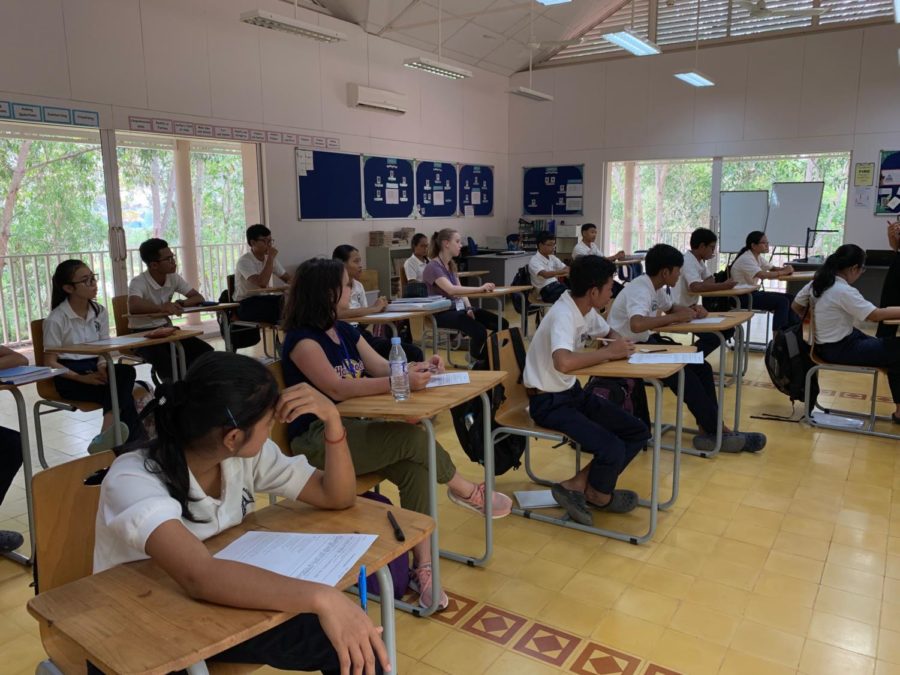 Because I am in 9th grade, I joined the 9th grade classes, and the other students also joined classes that corresponded to their own grade. The first class I joined was biology. The classes are in English, and the students all conversed in English in class. They were learning about DNA, and did a small lab.
It was interesting to see how the class worked. As someone whose first language is English, it was clear that the teacher would throw in a random question to check their English. For example, he would ask the definition of a word. The students in the class were really focused and engaged. Whenever he asked a question, just about every hand went up.
The next class we went to was civics. In this class they discussed articles and current events. This class surprised me because the English in the articles they were reading was pretty complex. I had to think I little bit while they were reading it.
In general the students all seemed like they wanted to learn. There wasn't one person there that seemed like they didn't want to be there.
JPA students' work ethic
by Allison Fitz
Throughout my morning at JPA I noticed an intense work ethic.
Some of this pressure seemed imposed by the school, which measures academic success by quantitative data and scores. Signs reminding students to speak English and posters about possible career paths based on subjects of interest lined the hallways. Charts tracked each grade level's current essay scores and future predictions. Top ACT scores were posted on bulletin boards (a 14-year-old boy scored a 35 out of 36 his first time taking it). Teachers told us how they look for the most motivated and curious students during the admissions process.
But I also saw much of this intense drive to learn come from within the students. I sat in on a political science class for Grades 11 and 12, where the students eagerly answered each question, or at least threw out a guess. As JPA is the most prestigious school in the region (and tuition free), it was clear to me how each student knew the value of their seat in the classroom and knew that many others line up to take their place.
At Annie Wright and in the United States in general, we work hard, but not because there is no other option. The U.S. values education, making attendance compulsory through secondary school and free to do so, and there are myriad private school options for students seeking higher challenges. Educational opportunities are everywhere.
Even still, I've always been told that even if my test scores aren't in the top percentiles, I can still demonstrate myself as a learner through other lenses. For the students of Cambodia trying to attend college in the United States, I don't think the same luxuries exist. It seems their test scores must prove themselves worthy before they can be further considered.
JPA dental clinic
by Gabrielle Krieger
Students at Jay Pritzker Academy are educated on proper dental hygiene from a young age. According to a nurse at the school's clinic, lack of dental care in Cambodia is a large problem because of kids' large sugar intakes and because dental hygiene not something they're always taught. Even if they are, it's also not always easy for them to have continuous access to water to do so. Some NGOs at public schools have tried to aid students with their dental care, but they run into the same lack of water as students do. As a solution, the JPA provides students with the toothbrushes and clean water. Teachers also supervise kids during the school day as they encouragingly instruct them through the process. The dental clinic provides further treatment right on campus.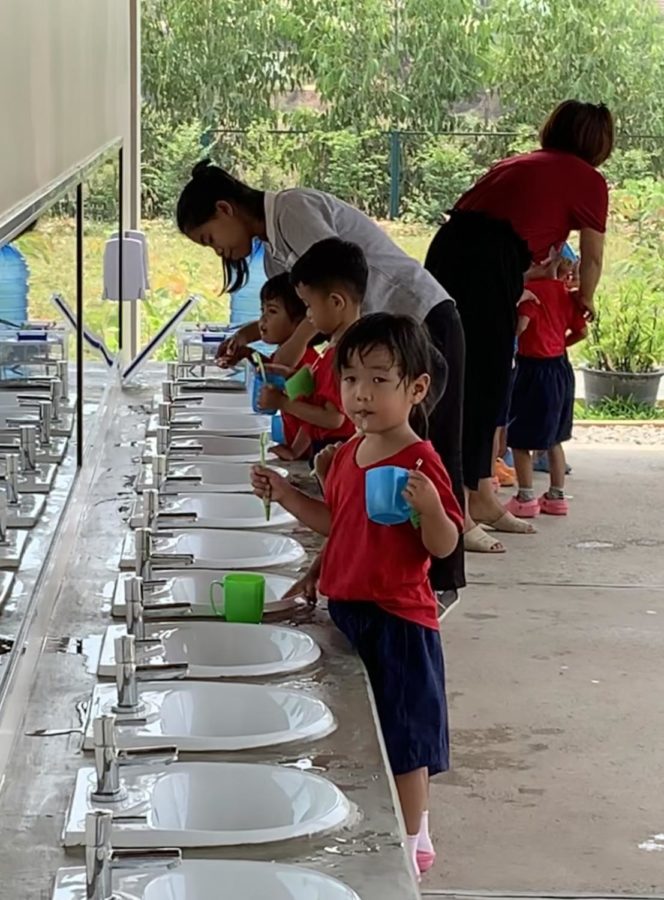 A surprise wedding invitation
by Samantha Salamone
On Friday night, we went to the wedding reception of Yuulin An's sister at the Cambodian Cultural Village in Siem Reap. Yuulin, who also attended JPA, is an Annie Wright alumna from the class of '18.
As we weren't aware that we would be going to a wedding until a day or two beforehand, none of us was dressed like one normally would for a wedding. When we pulled up, we began to feel underdressed and out of place, particularly because other women were very formally dressed in colorful, silky formal dresses.
We were given scarves and were greeted by family members when we walked in, and then walked down the aisle, where we passed under a few arches, surrounded by hundreds of tables. We were one of the first groups there, even though it was past 6:00 pm and the reception was said to start at 6:00. I suppose everyone made plans to be fashionably late. There were some 2,000 guests in the end.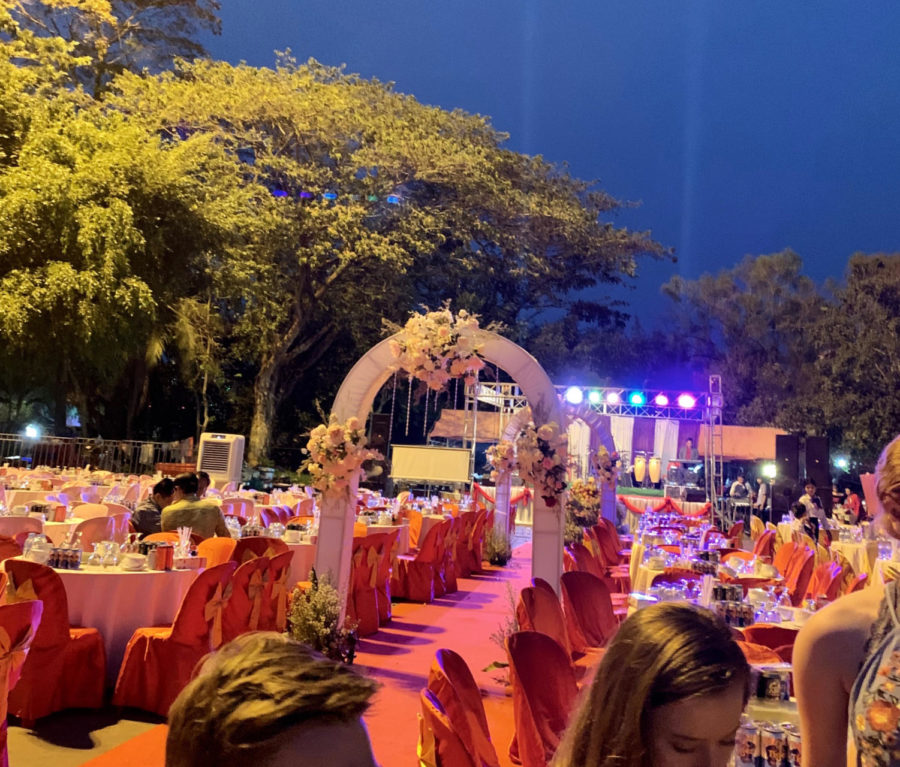 The Khmer music and emcee were very loud. A multi-course meal included many unfamiliar foods, including chicken, seafood, beef, noodle and rice dishes. It drizzled at one point, but it was quite refreshing. We left after two hours, but apparently the reception lasted long into the night.