Sophomore makes a splash in the international rowing community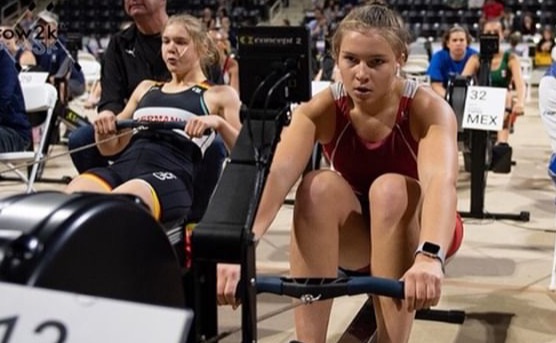 Sophomore Gabbie Graves recently won a female teenage rowing competition with the honor of second in nation and fourth in the world for the ergometer rowing machine in Long Beach, California.
Graves has been rowing and competing for the past two years on Vashon Island with the Burton Beach Rowing Club. She started rowing after discontinuing her passions of ballet and soccer. "I'd been doing it for so long – seven years or something – so I just really wanted to try something new." Rowing stuck for her. She now practices six days a week with practices both on land and in water. She can row by herself or with up to eight other girls in her boat. "Every day you want to challenge yourself and get better. The experience itself is so great," she said "You kind of get addicted to the beautiful view of the water and seeing everything around you and the motion of it."
She's gone to a vast amount places to compete, including California, Florida, New Jersey, Connecticut, and Canada. The biggest one was Czech Republic this past summer where her team brought home the silver medal for the US.
Graves trained a lot for her recent competition in Long Beach. "I had to be confident with my abilities to want to even go there," she said. The average time for a female of an ergometer machine on a two kilometer row is seven minutes. "Seven minutes is a lot longer than you think" she said, "You don't realize how long it is until you're out there doing it because seven minutes can pass by so quickly if you're just taking a walk. but exerting that much force in seven minutes is kind of insane." Graves came out with a time of seven minutes 16 seconds, pulling out second  in nation and fourth in the world. Other countries represented at the Long Beach competition included the Czech Republic, Germany, and Mexico.
Graves is now interested in joining a rowing program affiliated with the US Navy after high school. This specific program she is looking into could make it so she could continue her rowing while getting paid for her training. "I could keep going in the direction that I love, and I could also serve my country," she said.