A F.I.N.E. gallery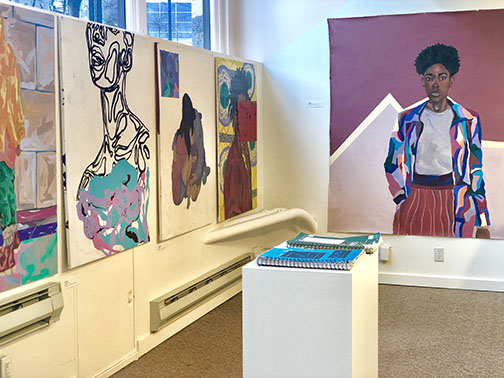 I'm F.I.N.E. (Fxcked Up, Insecure, Neurotic, Emotional) is a current exhibit at the 950 Gallery showing multimedia art by Barry Johnson.
Barry Johnson, a multimedia artist in his mid-thirties and a recent Ted Talk speaker, only in the last six years made the switch from high powered tech professional to self-taught artist. Yet, you would think he had done this all of his life judging by the quality of his work. You would also be surprised to know that quite a few of these pieces were made only in recent months.
Walking around the gallery, you can see that he makes use of every space. In doing so, he creates a very vibrant atmosphere that puts you in the setting of his paintings. Each piece in the gallery makes you wonder, whether it's the seemingly arbitrary stack of cash or the lack of a title on certain pieces.
On his gallery page, he cites soul music and the party lifestyle of his youth in the 80s and 90s as inspiration. He manages to capture this essence through his use of color, artful brushstrokes, and the repurposing of certain media such as a shard of a broken mirror or even duct tape.
Most of his pieces are done with house paint on canvases, some of them unstretched. However, he also includes 3D pieces, sometimes incorporating them into his paintings.
The gallery is open every Thursday from 1:00 to 5:00 p.m. and every third Thursday of the month from 1:00 to 9:00 p.m. It's free and available to the public. If you just can't wait, you can also schedule an appointment to see it. Barry Johnson's exhibit will be up until December 20.