For the first time in nearly 20 years, a Tacoma police officer is killed by gunfire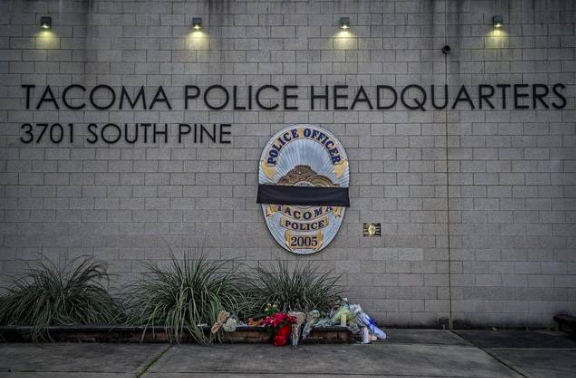 On Wednesday, November 30, a Tacoma police officer was shot and killed after responding to a domestic violence call in East Tacoma. According to Stacia Glenn, the crime reporter for the Tacoma News Tribune who spoke to Inkwell, the gunman was barricaded with 150 law enforcement officers on the scene for over 12 hours. She was on the scene until the standoff was over.
Fallen Tacoma Officer Reginald "Jake" Gutierrez was 45 years old and had been with Tacoma Police Department since 1999. Gutierrez was known for handling domestic violence situations and taking his job very seriously in the East Side. At 1:00 pm today, December 2, there was a procession for Gutierrez's body through Tacoma. There were more than 50 police cars in the procession as well as many others lining the streets. Based on an order from the Tacoma mayor, all flags in the city are lowered in honor of the fallen officer.
The suspect, Bruce R. Johnson II, a barber and father, was described as "troubled" by his grandmother. He used his two children, 6 and 8, as a shield throughout the night. The kids were rescued safely at about 3:20 am, and Johnson was killed by police gunfire. According to Stacia Glenn, the last officer killed by gunfire in Tacoma was in 1997.
Natayla Baxton, a 15-year-old who lives on the street in which the shooting occurred, told Inkwell described the incident from her perspective. "From where I was, I heard everything; the gunshot, even though I didn't know what it was at the time, and the helicopters and sirens that followed. In our neighborhood, we weren't supposed to leave our houses, so I wasn't one of the ones that went to the hospital, even though I wanted to. It was like we were all on the edge of a cliff, because we weren't sure what would happen next, and we really had no way of knowing. I do have to say that we really stood together as a community, even through his death, and that it did make us all realize how the bigger things – like loving one another – are what really matter."