Field for Gators May Debut Sooner Than You Think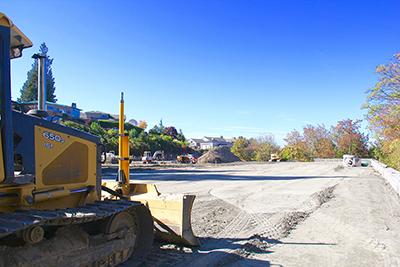 In late August, the school began building a new turf field to replace the current, non-regulation-sized, muddy field.
According to Head of Schools Christian Sullivan and Maintenance and Security Director Mark Blanchard, if everything goes as planned, the field will be done in the beginning of November. The field has been expanded to finally become a regulation size high school field that can be used for home soccer games. This has only been possible by cutting into the hill bordering the neighbors houses, and building a tall rock wall bordering the gulch.
Up to now, the soccer team has been driving 15 minutes to the Washington Premiere field for their home games. Soccer players Chloe Frey and Cleo Hudson expressed their excitement about finally being able to play and practice on a good quality field.  
The field, however, comes at a cost. Most of the funds for the field have come from alumni, current families at Annie Wright, and through foundations. In addition, the process for getting the permits for the field was lengthy. "We only got our permits in late July," said Mr. Sullivan. With the new turf field being in such close proximity to houses, getting the consent to build the field took some time. Also, because of the neighbors' input, the school was unable to get lights installed for the field.
On any given day there are ten to twenty men working hard to make the new field. In early October the turf will come in big rolls which will be sewn together. This new field and a new gym are the main focus of a campaign to improve Annie Wright athletics.