They're back!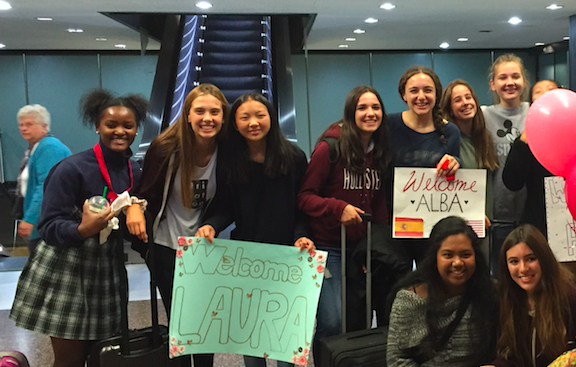 On Wednesday, September 7 at 5:05 pm, seven exchange students from Madrid, Spain, arrived in Sea-Tac airport and were met by their American sisters.
The Spanish students will be here for a little over a month and a half, and will share classes, activities, and home life with their exchange partners, who are Freshmen Alexandra Bessler,Bailey Black and Ellie Crist, and Sophomores April Fraser, Anna Haddad, Eleanor Tanbara and Eden Tournay.
The Spanish students said they are looking forward to getting more comfortable having casual conversations in English, making new American friends, and getting to know dorm life at Annie Wright. In addition they noticed some differences between their school in Spain and Annie Wright. They noted that, at their school, they have a limited food options, no lockers, and no student lounge. They also talked about how at their school, (Casvi, an IB school in Madrid) the teachers move around, instead of having the students do so.
The Spanish program has also been slightly altered this year, which will create a big difference from previous years. The English teacher for the Spanish students, Ana Vélez, who accompanies the girls to Tacoma, will only be staying for five days, compared to staying the full month and a half, as she did for the previous trips. According to Ms. Vélez, this change is designed to "give the students more independence, push them to speak more English, and make them solve their problems on their own."
During the last week of December, the Annie Wright students will take a flight to Madrid to start a new set of adventures with their Spanish sisters.
Note: This video was produced by Casvi School two years ago, after the first year of the exchange program, to highlight the program in Spain.