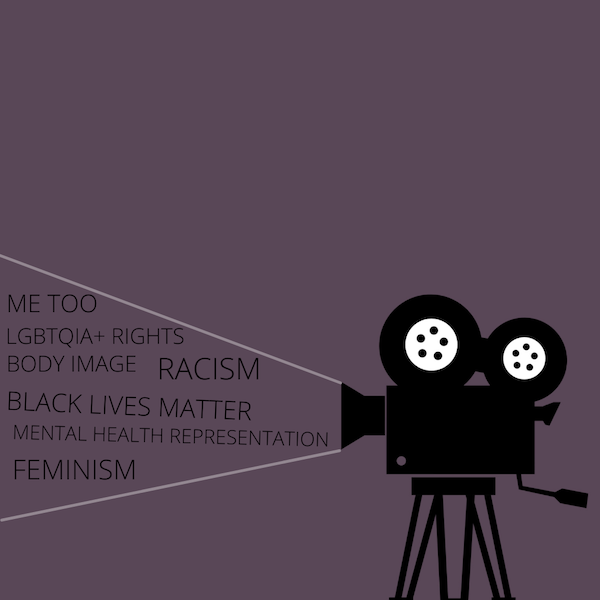 photo courtesy of Lauren Cook
Activism in Entertainment
May 4, 2021
One of the best platforms to tackle social issues and spread awareness is entertainment media. Of late, it is much more mainstream for books, shows and movies to have central storylines following activism. This development is a step in the right direction; with such a large platform, these medias are inherently responsible for informing their audiences.
"We live in the age of online [entertainment] and streaming services. We consume media more in our lives than we do food or drink. That's why I do think it's important that popular media addresses activism, rather than shy away from it, especially stemming from a year our lives have been directly affected by activism," said Martin Pugeda, an executive assistant at Avenida Productions. 
This year brought about many entertainment works that do an excellent job of explaining the functions and importance of activism.
Pugeda cited The Trial of the Chicago Seven, a Best Picture nominee, as a poignant and encompassing portrayal of social activism: "The Trial of the Chicago Seven follows the story of seven activists who were arrested at a demonstration protesting the Vietnam war. In many of the scenes where protestors clashed with police, the film purposely parallels it to the Black Lives Matter movement, where unarmed protestors deal with police brutality, bringing this issue close to home and shows just how long people have been fighting for justice."
Pugeda also discussed that music, as well as visual media, plays its own role in empowering and spreading awareness of the movement.
"Music has been a heavy proponent of activism. Many of this year's Grammy winners were protest songs inspired by or in solidarity with the BLM movement. Listening to Anderson .Paak lyrics of marching for George Floyd in downtown LA from 'Lockdown' was very reminiscent of Marvin Gaye's iconic protest anthem, 'What's Going On.'" 
However, not every portrayal of activism is complete or accurate. Some entertainment may purposefully cut context in order to further an agenda. Pugeda stated, " It's impossible to be completely unbiased, but I do think it's important to include both sides of the issue when it comes to media portrayals of activism. Context is everything. People need to understand cause and effect."
More often, the stories seen in shows and movies fall short not because of an obvious bias, but because of poor or limited delivery. Student activist Erin Picken brought up the example of the 2021 Netflix film, Moxie. Moxie follows the protagonist Vivian who creates an anonymous zine in an attempt to address misogyny and sexism at her high school after being inspired by a new student named Lucy. Picken noted, "I just thought it was odd that they chose the main character that they did, instead of [Lucy]… that they showed [Vivian] being inspired by someone and then becoming an activist, instead of focusing on [Lucy] who was already involved in the movement and more intersectional experience as a woman of color."
"I think that a lot of media surrounding activism is about someone who has just one, maybe two marginalized identities, like a gay white man or straight white cis woman and I think that can be frustrating for people who watch it wanting to be represented," said Picken. While having a diverse cast of secondary characters, Moxie's main character is still white, cisgender, straight and financially well-off.
Picken stated, "I wished they had looked deeper into [the experiences of] trans women, Black women, Latina women, Asian women, because I think those are really underrepresented groups in feminism. So it was a little disappointing to me that they were making a film about feminism, and yes, they included side characters of those identities, but they were just that – side characters. Instead of being fully represented in their identities, they overall don't see themselves as a priority in the message of the film."
Significant gaps like these make it important for viewers to also be able to distinguish between good and poor portrayals of activism. 
Pugeda explained, "[Keep in mind] media is designed to draw an emotion out of its viewers. Empathy. Anger. Sadness. Joy. I believe the most responsible way to consume media dealing with activism is to inform yourself on the issues at hand. And not only with [your] side, it's important to educate yourself on the perspectives of [marginalized] groups you don't [belong to], and the opposition as well." 
This piece was originally published in Inkwell's Social Justice Issue.