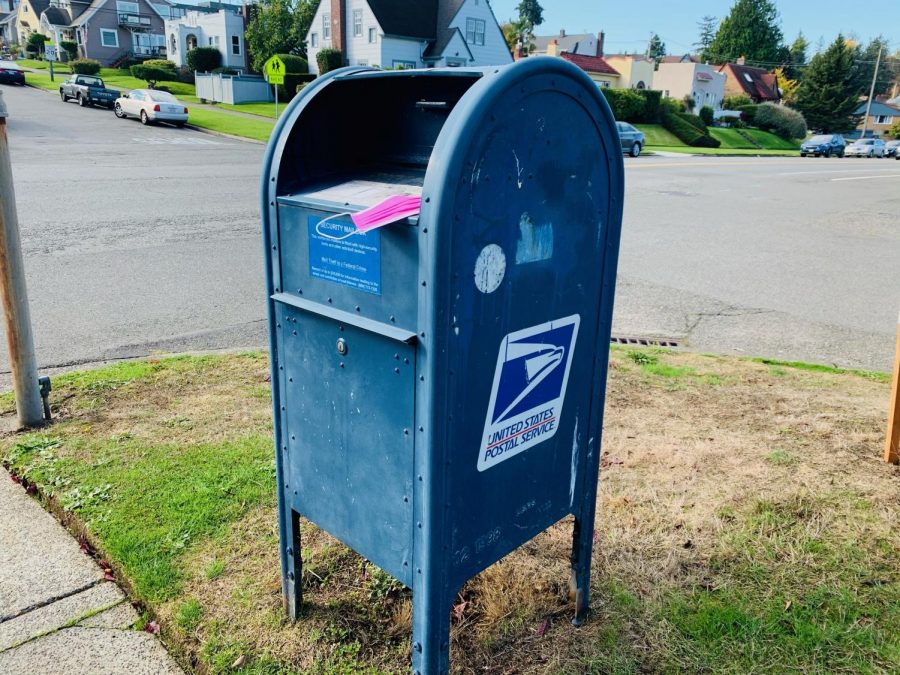 photo courtesy of Clara Wessels
USPS in the time of COVID
The controversy that could affect the election
November 2, 2020
With the ongoing COVID-19 pandemic, 2020 isn't a great year for anyone. However, the United States Postal Service (USPS) is especially suffering. Due to financial problems and political manipulation, there is concern that the USPS will not be able to deliver all the ballots for the presidential election on time. 
Since it became an independent agency in 1971, the USPS has been repeatedly under attack as the amount of mail that it handles has decreased. Over the last half decade, there have been numerous claims that the USPS is not worth funding and having as a government agency because it is not doing any better than its private competitors. Currently, there is talk of privatizing the post office. Privatizing the USPS would make it less reliable and much more expensive. Along with issues like the delivery of medication or other essentials, cutting USPS's funding could seriously affect the upcoming 2020 presidential election by preventing ballots from getting in on time.
In March and April of this year, with the creation of the Coronavirus Aid Relief and Economic Security (CARES) Act, the USPS requested 89 billion dollars to help pay off its debt and replace equipment to better their ability to provide for  US citizens. The Democrats of the House wanted to give the USPS a check for 25 billion dollars as a part of the CARES Act. The Trump Administration blocked this; Trump threatened to veto the bill if it involved money for the USPS. Eventually, the aid came by way of a 10 billion dollar loan from the US Treasury.
Louis DeJoy, a longtime Trump supporter, was appointed the US Postmaster General in May 2020. DeJoy took over after Megan Brennan retired from the post. In August, DeJoy tried to remove mailboxes and cut down on delivery runs and sorting equipment, among other things. 20 states sued, saying that he was taking these actions to purposefully make it difficult for citizens to be able to get their ballots in on time. Washington state is leading a lawsuit along with 13 other states that connect Trump's tweets about mail-in voting to DeJoy's sudden actions. According to a statement from Washington state Attorney General Bob Ferguson, DeJoy "acted outside of his authority to implement changes to the postal system, and did not follow the proper procedures under federal law." The changes have since been postponed until after the 2020 election.
Callista Wessells, 20, is a Seattle-native sophomore at Cornell University. This will be her first presidential election that she is able to vote in. She requested and mailed her absentee ballot in mid-September. 
In response to the current concerns about ballot distribution, she said, "I definitely am worried about the way the USPS will factor into the upcoming election…An inefficient and inaccessible voting system feels like a serious threat to American democracy. In terms of DeJoy's actions, it's hard to determine what his true intentions are. I'm inclined to believe that they were purposeful and directed toward sabotaging the voting process–it makes no sense to restrict its operational capacity in the direct follow-up to an election, even if the USPS has been struggling with financial problems."
The USPS has been struggling financially ever since the 2006 Postal Accountability and Enhancement Act required it to pre-fund their retiree's healthcare 75 years into the future. In the last 15 years, the USPS has racked up about 119.3 billion dollars in debt. This has made it unable to invest in growth and new equipment. In 2020, its financial troubles were heightened due to the COVID-19 pandemic.  Currently, Congress sets all its rates and also requires it to deliver to every single household in the USA. The USPS is unable to receive tax dollars for operating costs and relies solely on postage sales for revenue and salary funds. As one of the largest government agencies, USPS employs around 600,000 people. At first glance, it appears to be thriving, now cash-flow-positive for three years. In reality, USPS has been suffering since the 2006 Act. 
If the USPS doesn't receive the funding it needs,  there might not even be a public postal system in the near future.
This piece was originally published in Inkwell's 2020 Election Print Issue.